Everyday Im anxious to see a new video a new makeup look or just something that will inspire me period. I love the fact I see in color (creatively speaking that is) All my clients often ask me well what do YOU use? Ladies I will let you know getting your skin to best react comes from trail & error! You cant just buy a product line & everthing in it work (UH UH NOT GONE HAPPEN IN MY NU NU VOICE !!) ...it Just DONT happen this way. I have what you call combination skin & I can get oily in my tzone area
(around my nose & forehead) so this is why i focus on NO OIL products such as biore wipes or astrigent by clean & clear
Below is a chart to find out what type skin you have & best used to guide you on what products you should look for when purchasing for your skin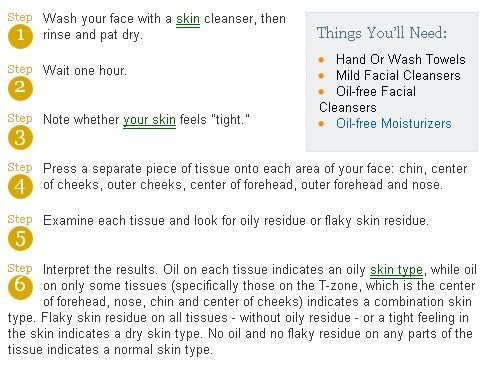 DRY SKIN
People with dry skin usually have few breakouts and seldom experience blackheads. The reason for this is that excess oil blockages are what form blackheads, and dry skin is not prone to excess oil. This generally means that acne breakouts are rare for this skin type, although other problems may exist.
NORMAL/COMBINATION SKIN (ME)
People with normal skin and with combination skin suffer occasional breakouts, with mild-to-moderate blackheads that occur for the most part in the "t-zone.The skin may feel dry and tight immediately after cleansing but will soon feel more lubricated. The skin tone for normal skin usually is fair to medium, and a few early lines may appear around the eyes. This skin type usually will sunburn when first exposed to the sun, but then will tan.
OILY SKIN
Oily skin is characterized by more frequent breakouts and the presence of comdones or blackheads. The pores are enlarged and visible. After washing the face quickly becomes oily, the nose and forehead quite rapidly growing shiny due to increased oil production.Therefore, over the long term, oily skin stays youthful for a longer period of time than the drier types of skin. Oily skin rarely burns when exposed to the sun and usually tans easily.
I always ask if girls I meet if they exfoliate??
Most times THEY DONT,Ladies exfoilating is like cleaning off dead skin on your face when we go out in the harshest of weather the sun,fog,rain i mean ALL of this takes a toll on your skin so DONT forget in order for your skin to look good you HAVE TO TREAT IT GOOD =) I like apricot scrub by St Ives
personally it has micro beads that clean thru all the bacteria & dirt for some this may be too harsh but for me I have sensetive skin but i still find I need something a little stronger, Again trail & error will help you find what will work best. They do have a few versions so go to the counter & read hunies!!!
I know you ladies will take this & run ENJOY More to Come. Remember ASK QUESTIONS YOU ARE WHY I HAVE CREATED THIS BLOG COMMENT & ASK QUESTIONS!!!
XOXO MJ